"Fusion is confusion." v/s "For music to evolve, fusion is the way forward."
There are two contrasting views about fusion and everyone has their thoughts about it. The purists think there cannot be any experimentation with the music while the upcoming generation differs from their view completely. Musically, there is a common ground between jazz and Indian classical music which 'Shakti' the fusion jazz-Indian classical music band explored.
In this week's Album Talk, musipedia and fellow cowboy Narendra Kusnur and I discuss Shakti's third album 'Natural Elements'.
Note: Language may be altered to suit the platform's requirements.
Me: Sir isn't this their last album?
Kusnur: As Shakti. John McLaughlin later formed 'Remember Shakti'.
Me: The line-up included Shankar Mahadevan and Selva Ganesh too.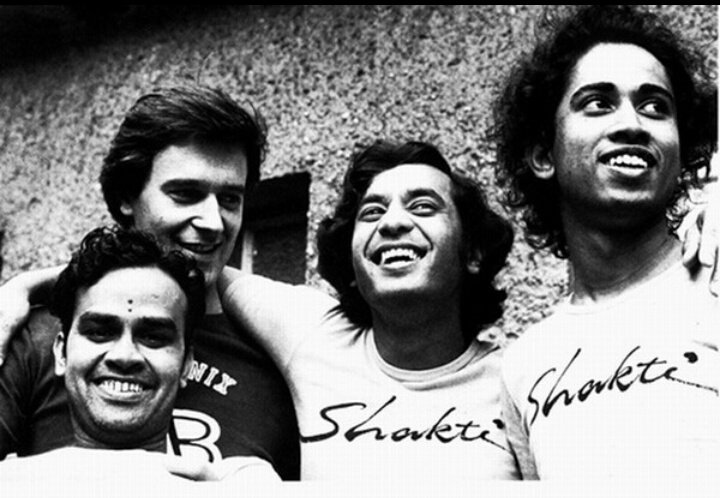 Kusnur: Ya. 'Shakti' was made up of John McLaughlin on the guitar, Ustad Zakir Hussain on tabla, L Shankar on violin and Vikku Vinayakram on the ghatam. The band was formed at a time when musicians were experimenting a lot specially in jazz music.
Me: Maybe because of its lucidity.
Kusnur: John was very interested in Indian classical music and wanted to make music involving it. Around that time, a lot of Indian musicians, like Pandit Ravi Shankar, were collaborating with western musicians. Ananda Shankar was amongst the first to collaborate. Zakir bhai was travelling extensively and happened to meet John. L Shankar was very keen to collaborate. These three got together and Vikkuji was invited by Zakir Bhai.
Me: What resulted was a wonderful amalgamation of Western, Hindustani and Carnatic music.
Kusnur: They made alterations to their instruments too. John added an extra string to his guitar, Shankar made the double violin.
Me: Even Zakir bhai played the bongo, dholak and other percussion instruments along with his tablas plus he did vocal duties too. The albums starts off on a super note with 'Mind Ecology' which sets the tone for the rest of the album.
Kusnur: John's love for Indian music and spirituality ensured he kept the songs positive. This song is an example of that. 'Peace Of Mind' is about introspection.
Me: 'Get Down And Sruti' is a funk styled song with crazy violins by Shankar. They have used the harp too in this song along with vocals.
Kusnur: They have used konnakol for the vocals.
Me: There are no long jugalbandis in the album.
Kusnur: There is one between Zakir bhai and Vikkuji in 'Get Down And Sruti'.
Me: Even the songs were short except 'Get Down And Sruti' and 'The Daffodil and the Eagle'.
Kusnur: My favourites would be 'Face To Face' and 'Bridge Of Sighs'.
Me: 'Bridge Of Sighs' is quite melancholic.
Kusnur: The song reminisces about their trip to Venice.
Me: 'Come On Baby Dance with Me' is a short and groovy one.
Kusnur: It is based on a Carnatic raga. I liked 'The Daffodil and the Eagle' at first but now I find it a drag.
Me: The album still feels fresh to the ears no matter how many times one listens to it.
Kusnur: No doubt about that.
Me: One can listen to it at any time of the day including now!
What you waiting for?
Go turn it on!
Until next time, Adios Amigos!!!